[This way to the link list to read and educate yourself on the vicious manipulators who work 24-7 to steal your right to life of free will and choice.]
Before I read my mail tonight, the most high wanted me to go look at the membership lists and lo and behold: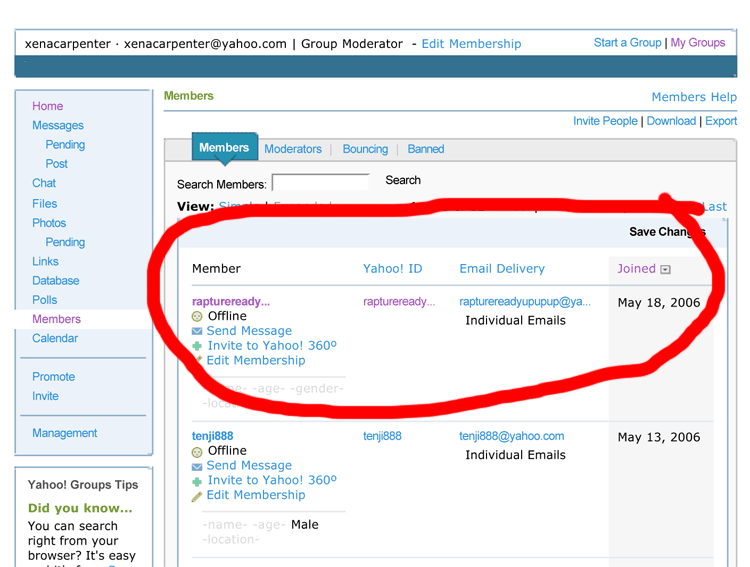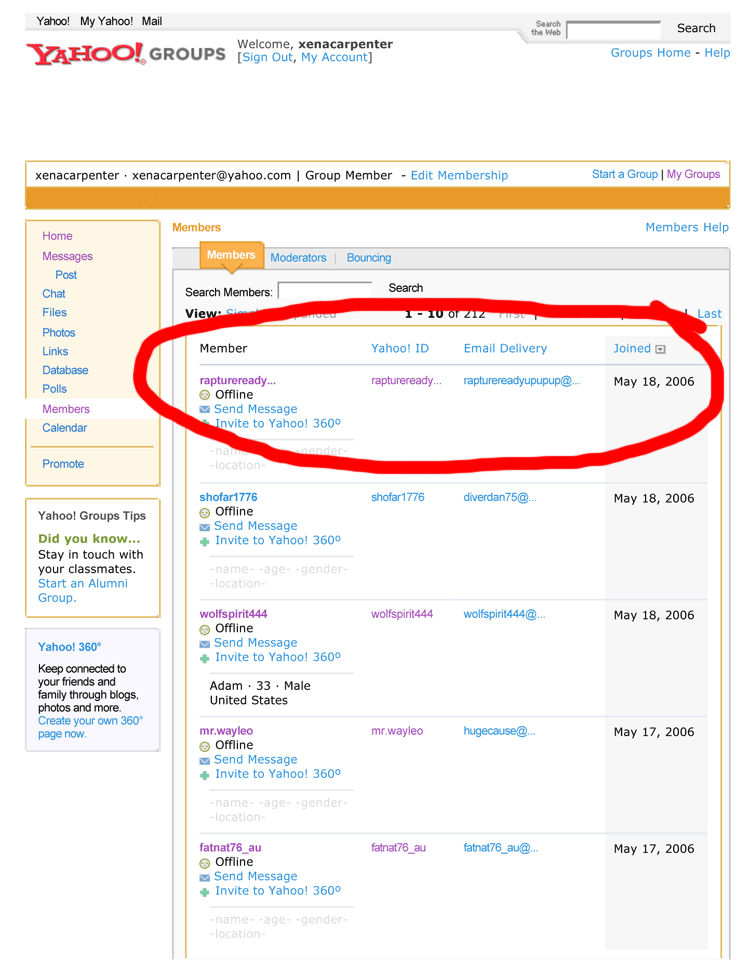 Rapturereadyupupup is one of many, many, many handle names Ron Cain uses besides the nazi iron_cross66106 handle name and other handle names: ronrevelation, solomontemplestar, johnlongfromabove. He even went around posing as a woman with the handle name of jessica4yah at orgone blasters.
If that didn't sound bad enough, he turned an abuse survivor forum into a religious debate forum with people attacking the moderator of the forum. How sick is that? People coming to an abuse survivor forum have had more than enough abuse in every way, shape and form and need no more of it. If they want to be abused, they can turn on their tv set and listen to Joel Osteen, Pat Robertson and Benny Hinn. They don't need a manipulative control freak like Ron Cain to remind them daily of the greedy monsters that are out there to steal our right to life of free will and choice.
Pain in the butt Cain claims that he's not stalking anyone and YET what IS he doing? Watching my blog and purposely joining the forums that I am at to start trouble. That is not called stalking? Someone mentioned to me about how stalking should be reported to the authorities. Yeah right. The FBI is a joke folks. Same thing with DHS [known as disorganized house of shitheads] and the NSA [never say anything, no such agency, no smart asses] chimps.
It's a good thing that I check my blog stats daily, because now I know how many harpy boards Ron Cain is at, drumming up support against Sherry Shriner. I know folks. He's on a suicide mission. You can read my other posts about it:
Ron Cain: The man trying to sell the world to the annunaki
Stupid little Annunaki slave puppet
A big mouth with no ears: The like adolf hitler wannabe
Debate the pain in the butt or else?
750 yahoogroup forums under surveillance
The manipulator that never sleeps
Another day, same war. When will it all end? Time will only tell.